Animated GIF Booth Setup
1. Setup the stand.

2. Add fabric cover.

3. Attach monitor.
That's it, you're done!
Free Shipping & Returns:

Free shipping both ways.

Delivery guaranteed at least  two days before event date.

Return package to FedEx two days after your event.
100% Satisfaction Guarantee

Guaranteed to arrive at least two days prior to your event date.

Guaranteed to arrive in perfect working condition.

Click HERE to read more about our 100% customer satisfaction guarantee.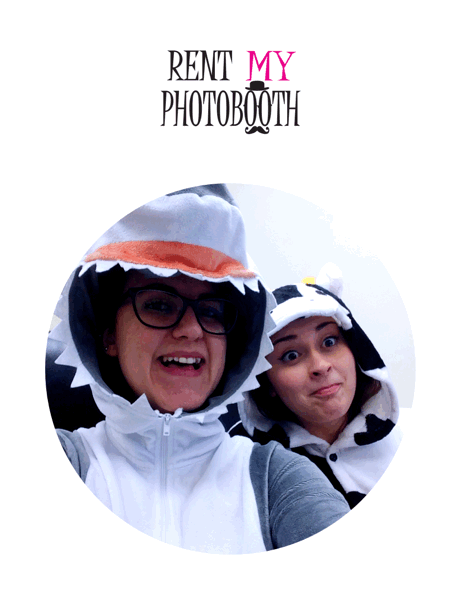 QUICK & EASY SETUP IN MINUTES!
STEP 1: OPEN PACKAGE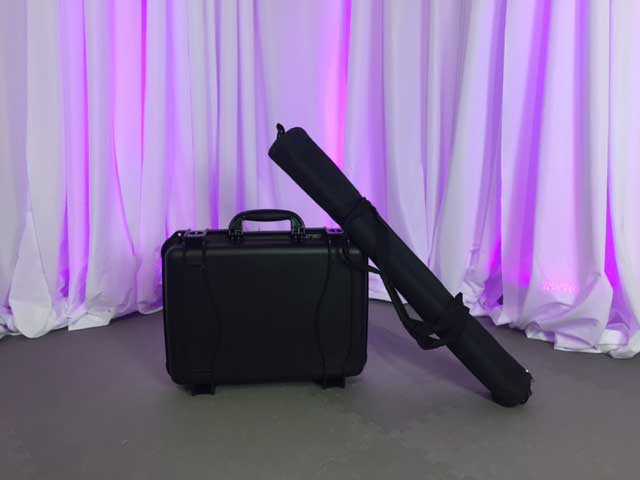 STEP 2: SETUP STAND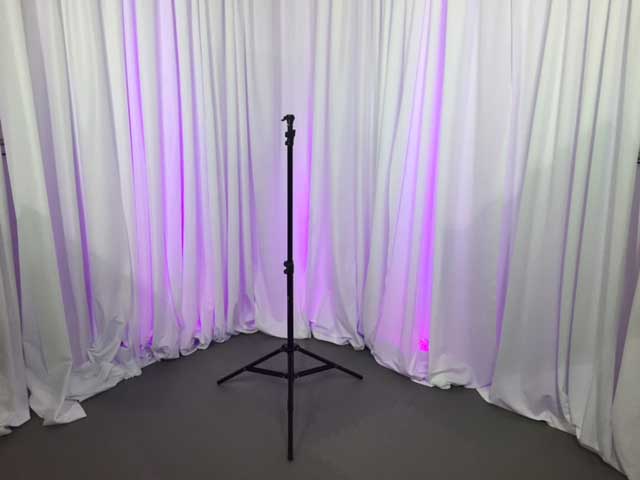 STEP 3: ADD FABRIC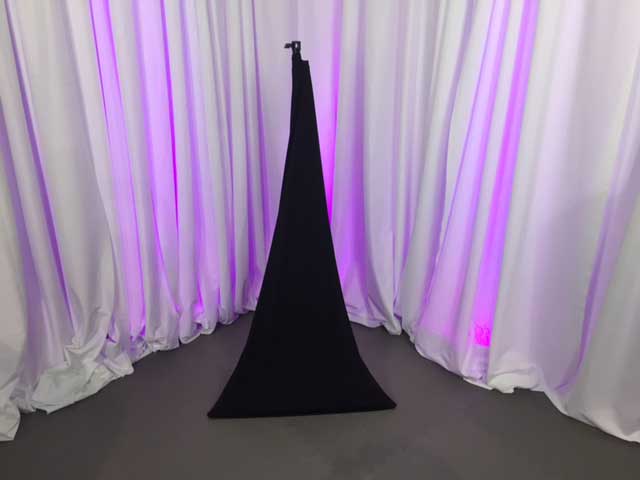 STEP 4: ATTACH MONITOR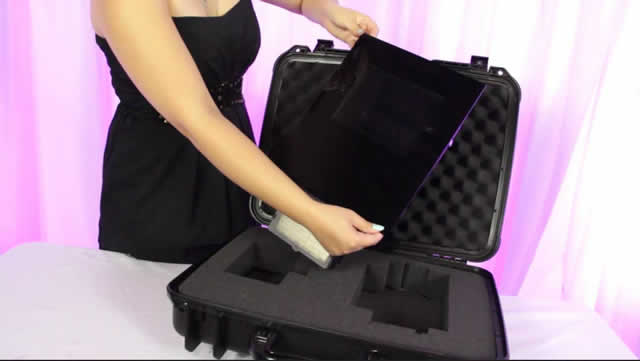 YOU'RE DONE!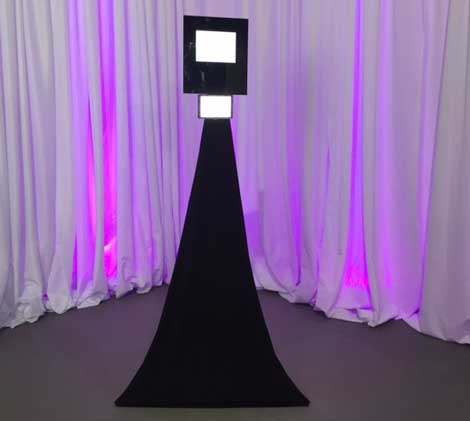 ANIMATED GIF BOOTH RENTAL PRICING


Animated GIF booth includes FREE shipping nationwide and 5 day rental period.


Animated GIF Booth Kit: $299:

Photo Booth Machine

Unlimited Animated GIF Photos*

5 Day Rental Period + FREE Shipping Both Ways


*Unlimited Animated GIF Photos: You receive online gallery with all event photos.. Guests receive an email with their individual GIF photos.
ADD-ONS:

Backdrop ($99): Linen backdrop with adjustable size up to 8' Tall by 12' Wide

Inflatable Booth Enclosure ($199): Inflatable booth enclosure (4 walls and roof) measuring 8' Tall x 8' Wide x 8' Long

Linen Booth Enclosure ($249): Elegant, canopy style booth enclosure (4 walls) measuring up to 10' Tall x 10' Wide x 10' Long


ANIMATED GIF BOOTH SETUP

SETUP:
Setup is easy for anyone - no experience required! The photo booth kit arrives in 2 small packages - a briefcase and a canvas bag. This allows for easy transport to your venue. To setup the photo booth, just setup the tripod stand, add the fabric cover provided, and attach the monitor. That's all there is to it! The photo booth is fully automated, so you are not required to have an attendant staffing the photo booth during your event.
OPERATING THE PHOTO BOOTH:
Once the photo booth is setup, the automated system will run itself during the event. Guests simply tap the screen to start, pose for photos, and then choose to share their photo on social media, or receive an email with their photo. .
TEAR DOWN:
After the event, just remove the monitor from the stand. Place the monitor in the briefcase, and the stand in the canvas bag. Affix the pre-paid return labels and drop off at any FedEx location.

RENTAL POLICIES
SHIPPING:
Enjoy FREE shipping both ways on all rentals within continental U.S. Delivery is guaranteed at least  two days before your event date. We guarantee packages will arrive on-time, with all rentals in perfect condition.
RETURNS:
Enjoy FREE return shipping on all rentals within the continental U.S. Return rentals to any FedEx location two days after event date. Use the same shipping cases and pre-paid FedEx label provided for return. Need extra time? Just give us a call and we would be happy to wokr something out! We're here to make your rental easy and stress-free.
PAYMENT:
Flexible payment options - pay 25% when you place the order, and the remaining 75% thirty days prior to your event date. No hidden costs or fine print - all rental prices include everything you need. No security deposit.
CANCELLATIONS:
Cancel anytime before you package ships for a full refund. Full refund will be issued within 1 business day of cancellation .
WHEN TO ORDER:
We recommend reserving your photo booth rentals about 30 - 60 days prior to your event date to ensure availability. We will automatically schedule your package for delivery at least two days prior to your event date. Many clients book further out so that there is one less thing to worry about later. However, we can also typically accommodate rush orders as well - just give us a call and we would be happy to help.
RENTAL PROCESS:
Just click HERE to check availability, and then complete your order online or by phone.


ANIMATED GIF BOOTH FAQ
WHAT BRAND IS THIS ANIMATED GIF PHOTO BOOTH?
We've developed our own propriety photo booth system. This unique new photo booth product is brought to you by Rent My Wedding, the nation's leading provider of online event rentals.
WHY IS THIS SO CHEAP?
This company was started by a bride planning her wedding. She has made it her mission to find a way to bring budget-friendly products to the event industry.
CAN I ADD MY LOGO OR MONOGRAM TO THE DIGITAL PHOTO?
Absolutely! We have two options for adding your logo/monogram to the photo. The Standard Design option allows you to customize one of our templates. The Premium Design option allows you to submit your own custom logo, or work with our graphic designers to create custom artwork.
CAN I PRINT PHOTO STRIPS?
If you'd like to print photo strips, check out our Standard Photo Booth Rental HERE. The traditional photo booth system will allow you to print photos. This Animated GIF Booth is specifically designed to create animated moving pictures, so it's not possible to print them.

HOW DO I GET THE DIGIAL PHOTOS?
After your event, we'll email you a link to an online photo gallery with all images taken at your event.
HOW DO MY GUESTS GET DIGITAL PHOTOS?
Guests can choose to text or email the photo to themselves after they take their picture. They will then receive a text/email with buttons to share directly on social media. You will also receive a gallery link with all images to download after the event.
HOW TO SHARE PHOTOS ON SOCIAL MEDIA?
Guests can choose to text or email the photo, and the text/email has buttons to share directly on social media. If you include a logo or hashtag on your photo booth setup, the design and hashtag will automatically appear on the social media posts.
>