Photo Booth Setup
1. Setup the stand.

2. Add fabric cover.

3. Attach monitor.
That's it, you're done!
Free Shipping & Returns:

Free shipping both ways.

Delivery guaranteed at least  two days before event date.

Return package to FedEx two days after your event.
100% Satisfaction Guarantee

Guaranteed to arrive at least two days prior to your event date.

Guaranteed to arrive in perfect working condition.

Click HERE to read more about our 100% customer satisfaction guarantee.



QUICK & EASY SETUP IN MINUTES!
STEP 1: OPEN PACKAGE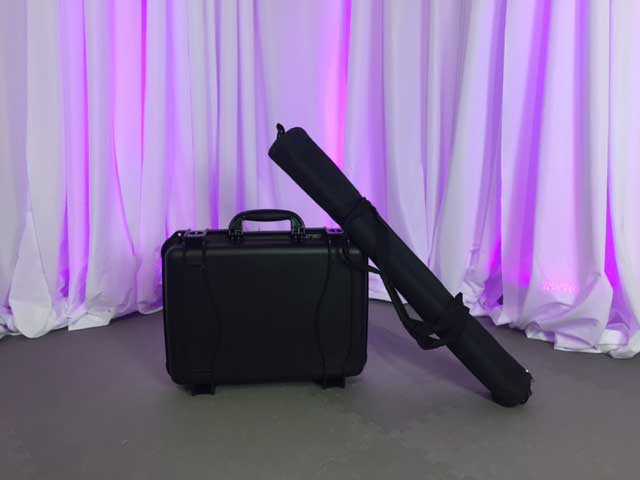 STEP 2: SETUP STAND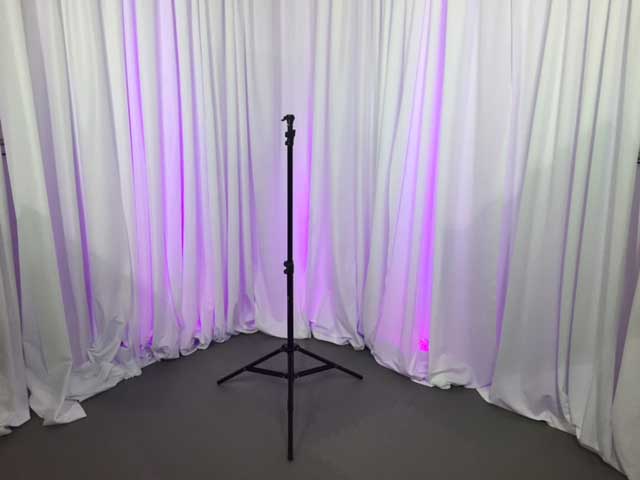 STEP 3: ADD FABRIC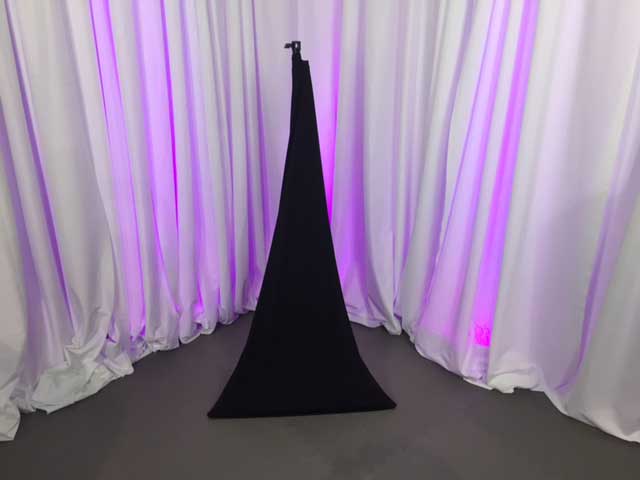 STEP 4: ATTACH MONITOR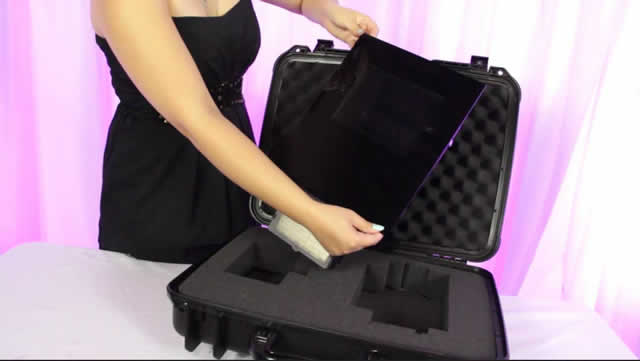 YOU'RE DONE!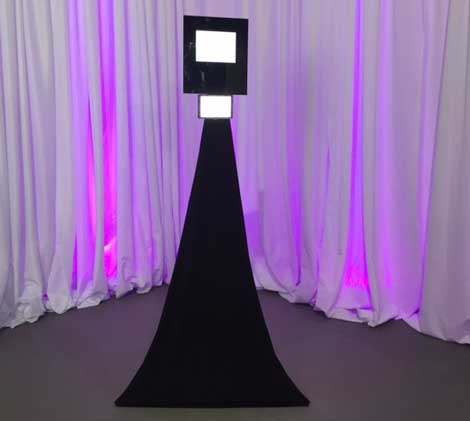 PHOTO BOOTH RENTAL PRICING


Photo booth rentals include FREE shipping nationwide and 5 day rental period.


Digital Photo Booth Kit: $299:

Photo Booth Machine

Unlimited Digital Photos*

Live Photo Sharing via Email and Social Media

15 Standard Props (Mustaches, glasses, lips, hats)

5 Day Rental Period + FREE Shipping Both Ways


*Unlimited digital photos: You receive online gallery with all event photos.. Guests can choose to receive their photos via email or share on Facebook / Twitter.

ADD Printer Kit: $149:

Printer Package for 200 Color Photo Strips

Add Additional Photo Strips for $0.30/each

MORE ADD-ONS:

Backdrop ($89): Linen backdrop with adjustable size up to 8' Tall by 12' Wide

Inflatable Booth Enclosure ($199): Inflatable booth enclosure (4 walls and roof) measuring 8' Tall x 8' Wide x 8' Long

Linen Booth Enclosure ($249): Elegant, canopy style booth enclosure (4 walls) measuring up to 10' Tall x 10' Wide x 10' Long


PHOTO BOOTH SETUP

SETUP:
Setup is easy for anyone - no experience required! The photo booth kit arrives in 2 small packages - a briefcase and a canvas bag. This allows for easy transport to your venue. To setup the photo booth, just setup the tripod stand, add the fabric cover provided, and attach the monitor. That's all there is to it! The photo booth is fully automated, so you are not required to have an attendant staffing the photo booth during your event.
OPERATING THE PHOTO BOOTH:
Once the photo booth is setup, the automated system will run itself during the event. Guests simply tap the screen to start, pose for photos, and then choose how to receive their photo. Guests can receive their photo by email, social media, or hardcopy photo strip print, depending on the photo booth package that you choose.
TEAR DOWN:
After the event, just remove the monitor from the stand. Place the monitor in the briefcase, and the stand in the canvas bag. Affix the pre-paid return labels and drop off at any FedEx location.

RENTAL POLICIES
SHIPPING:
Enjoy FREE shipping both ways on all rentals within continental U.S. Delivery is guaranteed at least  two days before your event date. We guarantee packages will arrive on-time, with all rentals in perfect condition.
RETURNS:
Enjoy FREE return shipping on all rentals within the continental U.S. Return rentals to any FedEx location two days after event date. Use the same shipping cases and pre-paid FedEx label provided for return. Need extra time? Just give us a call and we would be happy to wokr something out! We're here to make your rental easy and stress-free.
PAYMENT:
Flexible payment options - pay 25% when you place the order, and the remaining 75% thirty days prior to your event date. No hidden costs or fine print - all rental prices include everything you need. No security deposit.
CANCELLATIONS:
Cancel anytime before you package ships for a full refund. Full refund will be issued within 1 business day of cancellation .
WHEN TO ORDER:
We recommend reserving your photo booth rentals about 30 - 60 days prior to your event date to ensure availability. We will automatically schedule your package for delivery at least two days prior to your event date. Many clients book further out so that there is one less thing to worry about later. However, we can also typically accommodate rush orders as well - just give us a call and we would be happy to help.
RENTAL PROCESS:
Just click HERE to check availability, and then complete your order online or by phone.


PHOTO BOOTH FAQ
HOW DOES THE PHOTO BOOTH WORK DURING THE EVENT?
The photo booth screen will show the message "Tap Screen to Start." Guests will then tap the screen, and follow prompts on the screen to take their photos. When guests finish taking photos, the screen will prompt them to choose how they want to receive their photos. With all photo booth packages, guests can choose to receive their photo via email, or share it on Facebook or Twitter. If you add the optional printer package, guests can also print a photo strip.
WHAT TYPE OF PROPS ARE INCLUDED?
All photo booth packages include 15 fun props that will work for any type of event. The assortment includes props with hats, glasses, lips, and mustaches. For custom props, please give us a call at 1-800-465-8020.
HOW DO I GET THE DIGIAL PHOTOS?
During the event, guests can choose to receive their photos via email, or share the image on their Twitter or Facebook accounts. Additionally, you (the renter) will receive a link to an online photo gallery with all images taken at your event. (NOTE: Live sharing on social media works in virtually all areas of the U.S. You can confirm whether you are in a coverage area by clicking HERE to view the coverage map. If you are not in a coverage area, your guests will not be able to share on social media, but they can still receive an email with their photo after the event, and you will still receive an online gallery with all images after the event).
HOW DO GUESTS GET DIGITAL PHOTOS?
Guests can choose to email the photo to themselves after they take their picture, or they can share the image to their Twitter or Facebook account.
HOW TO SHARE PHOTOS ON SOCIAL MEDIA?
Guests simply tap the scren to share their photos live on Facebook or Twitter. The photo booth comes with a built-in 3G internet connection.
HOW DOES THE PHOTO PRINTING WORK?
Guests tap the printer icon on the screen. The printer will automatically print 2 photo strips. If you would like additional copies of that photo strip, simply tap the screen to choose "re-print," for 2 additional photo strips.
HOW MANY PHOTOS ARE ON THE PHOTO STRIP?
The photo booth will print 3 photos per photo strip by default. If you'd like to customize the number of photos or layout, just give us a call before your rental, and we'll be happy to customize the booth for you.
WHAT SIZE IS THE PHOTO STRIP?
The photo strip is 2" wide by 4" long.
HOW MANY PRINTS DO I NEED?
Our printer package will print up to 200 individual photo strips. Typically, we find that 200 photo strips will last for about 3 - 4 hours. (This is based upon how long each user typically spends at the photo booth - including choosing props, posing, and reviewing their photos). Also keep in mind that some guests will choose to share their photos on social media or email rather than printing. For this reason, the printer package works perfectly for an average size party or wedding reception. (We don't want you to pay for more prints than you need!). If you are expecting more than 200 guests, you can also contact us for other printing package options.
WHAT BRAND IS THIS PHOTO BOOTH?
The photo booth is designed and manufactured by Rent My Photobooth. We've developed our own propriety photo booth system.
WHY IS THIS SO CHEAP?
This company was started by a bride planning her wedding. She has made it her mission to find a way to bring budget-friendly products to the event industry!
IS THERE A LOGO ON THE PHOTO BOOTH OR PRINTS?
No, our company name is not visible on the photo booth machine, or on the prints.
CAN I ADD MY LOGO OR MONOGRAM TO THE PHOTO STRIP?
Absolutely! Just give us a call and we are happy to work with you on customizing your photo strip logo. Otherwise, by default, there is no logo on the photo strip.
CAN I REALLY SET THIS UP MYSELF?
Yes! We've made the system super easy for anyone to use - no experience required. Just follow the instructions provided with your rental, watch the instruction video, or just give us a call! It literally just takes a matter of minutes to put your photo booth package together.
WHAT IF I NEED HELP DURING MY EVENT?
We've got you covered! Just call our technical support team anytime. We offer support between 7AM - 11PM daily, including weekends and holidays. Just call 1-800-465-2208, and then follow the prompt to be connected to the tech support team.
>